Luis Gutiérrez
Director, General
Luis Gutiérrez is the President for Latin America for Prologis' and also is the CEO of Fibra Prologis a public vehicle in Mexico, he runs Mexico and Brazil activities, including development, acquisition and operations.
He was one of the founding members of Gaccion in 1988, one of the largest developers in Mexico where he served as CEO and became a partner with AMB Property Corporation. In 2008 AMB bought Gaccion, he became managing director, Gutierrez managed AMB's Mexico and Brazil operations. He brings more than 31 years of experience in Real Estate development, construction, acquisitions and dispositions, as well as the representation of foreign direct investments in Mexico and Brazil.
Gutiérrez holds an MBA from the Instituto Panamericano de Alta Dirección de Empresas (IPADE) and a Bachelor of Science degree in Civil Engineering from the Universidad Iberoamericana. He's currently President of AMEFIBRA (Mexican Association of FIBRAs), has served as President of AMPIP (Mexican Association of Industrial Parks) and is currently a member of Board of Director of Finaccess. He has been involved in non-profit organizations including a Trustee of his Alma Mater Universidad Iberoamericana, among many others.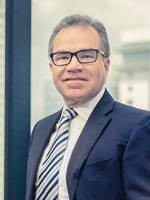 Héctor Ibarzabal
Managing Director, Mexico
A 30-year veteran of the real estate sector, Héctor Ibarzabal has extensive experience in operations, capital deployment, structuring, financing and fundraising for the real estate industry, in the office, industrial, retail and residential sectors.
Mr. Ibarzabal serves as Mexico´s Managing Director for Prologis since 2011 and as Chief Operating Officer for Fibra Prologis, since its IPO. In that capacity, he commands all Prologis Real Estate activities in Mexico.
Before Prologis, Mr. Ibarzabal was co-founder of G. Accion in 1988, a Mexican publicly traded real estate company, where he served as CFO, COO, and President. G Accion was the first international partner that AMB Property Corporation had, back on 2001, several years before merging with Prologis.
Mr. Ibarzabal has been President of AMPIP (Mexican Association of Industrial Parks), where he currently participates on the Board of Directors, and has served as independent Director on several Boards of Public Companies, Joint Ventures, CKD´s and Fibras. Mr. Ibarzabal holds a civil engineering degree with honors from Universidad Iberoamericana, and an MBA from IPADE.
Jorge Girault
Chief Financial Officer
Born in January 1971, Mr. Girault has worked in the real estate industry since 1994, making him a veteran of the real estate industry, Mr. Girault has served as Vice President of Finance of Prologis Mexico since 2015.
As an officer of Prologis Mexico manager, and a manager of Prologis México Fondo Logistico, a Mexican industrial real estate investment vehicle managed by an affiliate of Prologis, he was responsible for the structuring and successful launching of the FIBRA Prologis IPO in 2014 for $500M as well as a rights offering in march 2019 for $350M.
Mr. Girault has significant experience managing Prologis' equity and debt-raising activities, negotiating and structuring different type of debt structures. He started his professional carrier at G. Acción, a publicly traded Mexican real estate multi-product development company, where he rose from Project Manager to VP of Investor Relations and SVP of Finance. He was part-time professor at the Business School of Universidad Iberoamericana and is an active member of the Mexican FIBRA association. Mr. Girault holds an industrial engineering degree from Universidad Panamericana and an MBA from Universidad Iberoamericana and AD1 at IPADE.